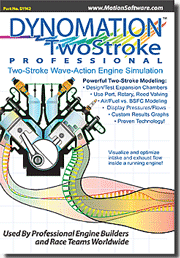 Thank you for your interest in DynomationTwoStroke™ designed for Windows98/XP.

Introduction
DynomatonTwoStroke is a DOS-based simulation that was originally released in the mid-1990's. A great deal of time and effort was expended in the development of this comprehensive wave-action simulation (by several racers, engine designers, two-stroke experts, and university professors expert in engine-simulation technology). The businesses and individuals that purchased the original Dynomation 2 Stroke program were pleased with the capability and accuracy of the software. But because of the limited worldwide activity in two-stroke engine development, program sales were limited and further development was curtailed.
Now, Motion Software, Inc., has released an updated version of DynomationTwoStroke that lets users install and run the program under any version of Windows. Support for Windows not only makes the program easier to use, but it also allows the growing number of two-stroke enthusiasts to use this powerful simulation on Windows platforms.

Why Does This Program Rely On DOS?

DynomationTwoStroke (under the surface) continues to use the DOS-based API that exists in Windows98/XP to execute program code and create screens, menus, and graphs (see screen images below). Why? The answer to that question is easy:
The prohibitively high cost of conversion to Windows!
While two-stroke engine development is on the rise again, the worldwide interest in a professional two-stroke engine simulation is still limited. The cost to convert this program into a full Windows program (like our Dynomation-5, four-stroke simulation) would prevent it from ever being released! But that doesn't mean that it lacks capability. DynomationTwoStroke is a comprehensive and easy-to-use simulation! We guarantee it!
DynomationTwoStroke In A Nutshell

DynomationTwoStroke is a full-cycle simulation, meaning that it calculates the complete fluid-dynamic, thermodynamic, wave-dynamic, and frictional conditions that exist inside the cylinders and runners throughout the entire 360 degrees of the two-cycle process. It keeps track of the pressure waves moving in the intake and exhaust systems and their effects on port/pipe pressures and flow. The program performs hundreds of millions of calculations at each rpm test point throughout the engine-analysis process. Despite internal program complexity, the simulation is straightforward and easy to use. Wtih DynomationTwoStroke, you'll build and test engines in no time! You can depend on this package to produce solid, accurate predictions of engine performance characteristics.
Look Inside A Running Engine­—View and Analyze Intake and Exhaust Flow And Pressures!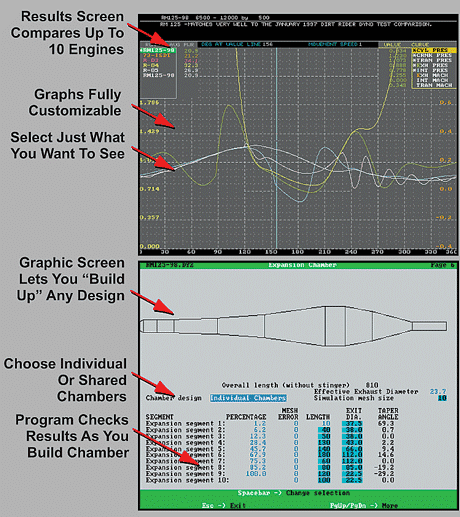 DynomationTwoStroke lets you peer inside a running engine! It reveals–otherwise invisible–pressure waves and mass flow in cylinders, engine passages, and expansion chambers. This simulation accurately predicts power, torque, and many other engine parameters. Even more importantly, it show you where you should focus your efforts to optimize performance!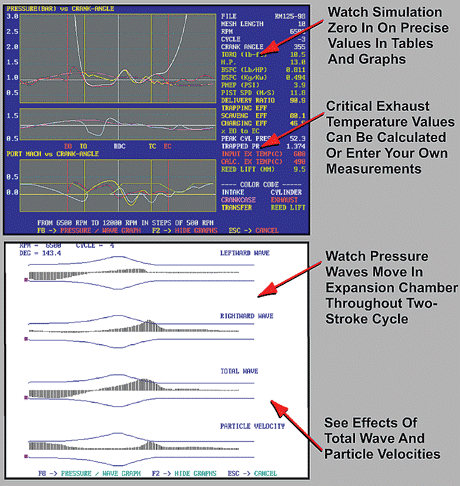 DynomationTwoStroke can model a wide variety of two-stroke engines:
Number of Cylinders: 1 to 3 firing into joined chambers; unlimited firing into individual chambers


See "Live" Pressure-Wave Display of Leftward, Rightward, and Total Pressure Waves (plus Flow Velocities) travelling in Expansion Chambers!


Pressures and Port Velocities displayed for Intake, Transfer, and Exhaust Passages


Build, Test, and Optimize Custom Expansion Chambers


Model Individual or Shared Expansion Chambers


Test Engines with Piston-Port Induction, Reed-Valve Induction, or Rotary-Valve Induction


Select Carbon Fiber, Fiberglass, and Steel Reeds


Model Two to Six Transfer Ducts Per Cylinder


Exhaust Temps Can Be Calculated or Manually Entered


Includes Sophisticated Combustion and Ignition Timing Modeling with BSFC Compensation


Various Intake Tract Lengths and Sizes


And Much More!
Program Outputs and Graph Results:
Power and Torque


BSFC (Brake Specific Fuel Consumption)


Pumping MEP (Mean Effective Pressure)


Peak Cylinder Pressure


Trapped Pressure Ratio


Delivery Ratio (same a VE in a four-stroke engine)


Trapping Efficiency


Scavenging Efficiency (a measure of charge purity in the cylinder)


Charging Efficiency


Exhaust Temperature


Piston Speed


%EO to EC (percentage span through exhaust phase; used for diagnosing Expansion Chambers)

DynomationTwoStroke
Requires Windows98 or WindowsXP (32-bit).

We Guarantee Your Satisfaction Or Your Money Back!
DynomationTwoStroke
is available in the Motion Store
(on CD or as a Download):

---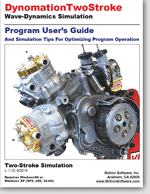 FREE—Download
DynomationTwoStroke
Users Manual
(3Mb, Right click, select
Save Target As...)
---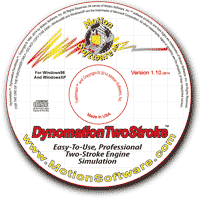 DynomationTwoStroke Capabilities:
System Requirements:
Requires Windows98 or WindowsXP (32-bit only). Will NOT run on Vista, Windows7 or Windows8.

A fast system processor (recommended 3GHz or faster) will improve simulation speeds.

CD-ROM drive.

A USB Port for the Security Key required to run DynomationTwoStroke.

A minimum of 512MB of RAM.

A video system capable of at least VGA resolution.

Mouse


Printer connected to an LPT: port for direct printing from program. Can also print to any

Windows-Compatible Printer by saving a report file, then printing from a Windows text editor (Notepad, Word, etc.).