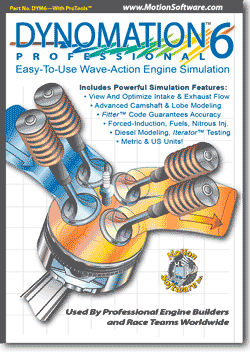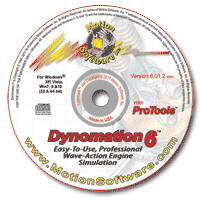 Dynomation6 Engine Simulation
Easy-To-Use, Professional Wave-Action Engine Simulations
Dynomation6 lets you peer inside a running engine! It clearly lets you see, otherwise invisible, pressure waves and mass flow in cylinders and engine passages. Dynomation6 reveals why specific components improve power and others don't!
All engine components and specifications are clearly visible and easy to modify. Unique Direct-Click™ data entry let's you select and optimize any component with just a mouse click! Let Dynomation6 help you zero-in on the best combination for economy, performance, or professional racing.
Find Out More About Dynomation-6 (Four-Stroke Engine Simulation)
Find Out More About DynomationTwoStroke (Two-Stroke Engine Simulation)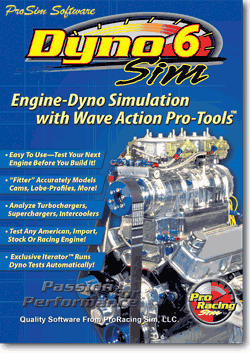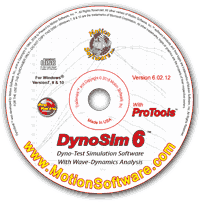 DynoSim6 Engine Simulation
Easy-To-Use, Wave-Assisted Engine Simulation For Performance Enthusiasts!
DynoSim6 is a highly accurate engine-dyno simulation. It is also easy to use. If you know engines, you'll be using this simulation in just minutes. Build and evaluate any engine you can imagine, in just seconds! Click on any component or enter your own custom specs. DynoSim6 instantly displays power and torque, fuel flow, airflow, frictional losses, and much more!
Use DynoSim6 wave-dynamic displays to "see inside"
your running engine! Minimize intake reversion, correct miss-timed exhaust pulses, locate flow restrictions. Software also models turbochargers, roots/screw and centrifugal superchargers. Set boost, belt ratios, turbine sizes, A/R ratios, even model intercoolers.
DynoSim6 will help you get the most from any engine. Known worldwide for accuracy and ease of use. And you'll find wiide support on the Internet with engine files, cam files, and flow files available. DynoSim6 is, simply, the best simulation for the money, and it's fun to use, too!