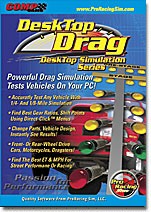 The DeskTop Drag5 is a powerful 1/4- and 1/8-mile straightline vehicle simulation from ProRacing Sim and COMP Cams. This easy-to-use program that lets you analyze the acceleration potential of any automobile, dragster, or even motorcycle on your PC! A custom user interface displays parts on the left and results on the right. Use Direct-Click™ menus to easily select parts or enter your own custom specs. Test a virtually unlimited range of component combinations. Display acceleration, engine speeds, elapsed times, aerodynamic drag, clutch and tire slippage, and much more!
DeskTop Drag5 was designed for you, the street and racing enthusiast.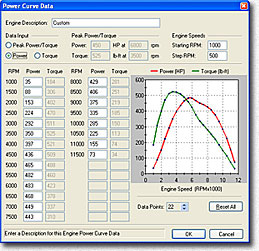 It displays ET, MPH, and comprehensive vehicle telemetry to within 5% of real-world, track-tested data. Easily review vehicle performance data with a PopUp TimeSlip™. Enter any engine power curve using a powerful direct-entry dialog, or easily import engines you've designed in DynoSim5 or DeskTop Dyno5. Model stock production vehicles to Top-Fuel dragsters, even test Jet and Rocket powered cars!

Vehicle performance and telemetry is displayed on custom graphs, and exact values can be examined in detailed results tables. Test manual or automatic transmissions, any trans or rear-axle gear ratios, a wide range of vehicle weights, frontal areas, tire traction, launch and shift rpms, clutches, torque converters, engine power, even wind and weather conditions! Find out what works before you invest in expensive parts. You'll have a blast designing the ultimate vehicle for any level of street performance or all-out competition.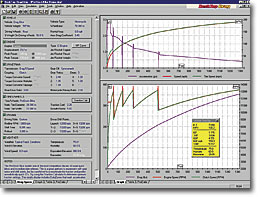 There is no other simulation on the market that can compare with the DeskTop Drag5 in cost, professional features, testing capability, and high accuracy. Get the most from your next hot rod project at the lowest possible cost. Get the DeskTop Drag5 simulation package. Runs on any Windows-equipped PC including Vista.
The DeskTop Drag5 is supplied with a 100+ page, full-color, on-disk Users Manual (directly accessible from within the program) that details the features of this comprehensive engine simulation. If you wish, you can download a copy of this manual to review the capabilities of this software before you buy!
DeskTop Drag5 is available NOW!. See our Purchase Page for purchase information and Discount Web pricing
What You Can Do With The DeskTop Drag:
Design, Build, And Test Any Drag Vehicle In Seconds

Simulates Automobiles, Dragsters, and Motorcycles

Model Front- Or Rear-Wheel Drive Vehicles

Models 1/8- Or 1/4-Mile Drag Races

Instantly See The Potential Of Any Component

Pop-Up TimeSlip™ Gives Performance Overview

Display & Print Vehicle Data And Color Graphics

Test Driveline, Gear Ratios, Tires, Wheels, And More!

Easy-To-Use, Error-Checking Interface

Plus Automatic Updates Over The Web!
Tune These Key Vehicle Components:
Any Engine Power Curve In Detailed HP Entry Dialog

Easily Import DeskTop Dyno5 And DynoSim5 Engines

Even Test Jet/Rocket Propulsion

1- to 6-Speed Transmissions

Clutch Or Torque Converter (Any Stall Speed)

Any Trans Or Rear-Axle Ratios

Any Motorcycle Primary Ratio

Vehicle Weight, % On Driving Wheels, Wheelbase

Frontal Area, Aero Drag, Driving Tire Width

Static And Tire-Growth Diameters

Traction, Launch, Shift, Tire Slip, and Redline Rpms

Shift Times

Rollout Staging Distance

Temperature, Humidity, Wind, & Elevation

And More! A Powerful Vehicle-Dynamics Simulation!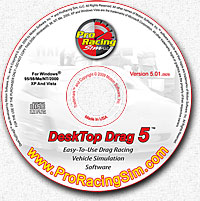 Special Discount And Bundle Pricing Available Now!
Program Features:
Build, Test, And Drag Race Any Domestic Or Sport Compact Vehicle On Your PC!


Instantly Load DeskTop Dyno5 or DynoSim5 Engine Files Or Manually Enter Any Engine Power Curve


Even Test Vehicles With Jet Or Rocket Power!


Design, Build, and Test Cars, Motorcycles, Dragsters—Front- Or Rear-Wheel Drive!


Advanced Graphics Displays ET, MPH, Engine & Clutch (trans input shaft) RPM, Acceleration, Aero Drag, Tire Slip, and more!


Evaluate ET, MPH, Or Zoom In And Analyze Starting Line Or Top-End Performance


Custom Windows Interface With Easy-To-Use, DirectClick™ Menus


Select Parts From Built-In Menus Or Enter Your Own Custom Specs


Use Any Trans, Manual or Auto, 1-to-6 Gears, Any Ratios, Any Launch And Shift RPMs


Model Virtually Any Vehicle Design, Weight, Frontal Area, Aero Drag, Wheelbase, Tires, Driving Style!


Use Pop-Up TimeSlip™ For Fast Overview Of Vehicle Performance


Known Worldwide For High Overall Accuracy, Thorough Data Analysis

Accurate Torque Converter Modeling, Bullet-Proof Shifting Algorithms, Detailed Traction Analysis.


Built-In "Watchdogs" Help Ensure Valid Data Entry


Optimize Any Vehicle BEFORE You Build It; Save Thousands On Parts!


Accurate, Easy-To-Use, State-Of-The-Art, And Fun!
System Requirements:
Any PC system capable of running Windows7, 8, 10 or 11

Basic SVGA video capability (800 x 600), however, 800 x 600, 1024 x 768 or higher resolution recommended

CD-ROM disk drive


Mouse