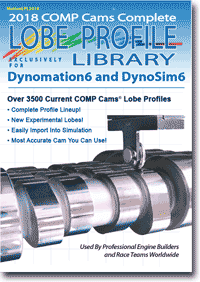 Compatible With Dynomation-6 and DynoSim6.

Motion Software's Lobe-Profile Libraries mark another FIRST for the performance industry!

Until now, the only way you could obtain lobe-profile data was to purchase the cams you wanted to evaluate and measure the lobes in a fixture by hand! Not an easy or inexpensive process! But now, you can add hundreds of precise lobe-profiles to your cam library. Not only that, the COMP Lobe Library includes several spreadsheets that provide detailed lobe specifications, application recommendations, and cross-references to cam catalog part numbers!

Motion Software is dedicated to keeping our simulation users ahead of the competition! Get the most from our new engine simulation. Adding the Lobe-Profile Library CD, Dynomation6 and DynoSim6 users can model valve motion and engine output with unprecedented accuracy using the entire Comp Cam lineup!

The COMP Cams™ Lobe-Profile Library: Motion Software and COMP Cams have joined forces to offer engine enthusiasts 7000+, state-of-the-art, lobe-profile files that you can instantly load and test in Dynomation-6! These profiles allow Dynomation-6 to precisely simulate the valve-motion of every stock or custom cam in the COMP catalog, an essential step in obtaining the highest accuracy in engine modeling.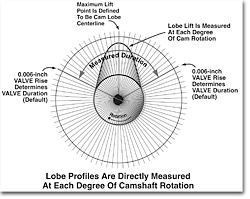 Not only can you load and test all existing COMP cam lobe profiles, but you can mix and match lobes for all-new designs, and even test "experimental" profiles! When your simulation testing is completed, COMP can quickly turn any lobe combination (within reason) into a real camshaft for any engine!
Lobe-profile data consists of 180 or more data points measured directly from each cam lobe. Since airflow into and out of the engine can be very sensitive to valve position, especially at low valve lifts, accurate valve-motion data is an essential element in precise engine modeling. Lobe-Profile data ensures the highest valve-motion precision within Dynomation-6.
Simply put, if you want the highest modeling accuracy in Dynomation-6, this Lobe-Profile Library will be a priceless addition to your engine design tools.
How To Use Lobe Profiles: Importing profile data from a library takes only seconds. Pressing the Import Lobe Profile button in the Camshaft Category opens the Lobe-Import Dialog, shown here: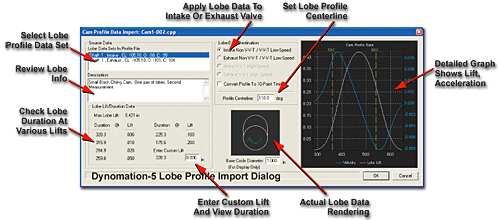 Lobe Source-Data List—Provides list of lobe data stored within the selected Lobe-Profile file.
Lobe Duration—Here you can check LOBE duration at various lobe-lift points. Values shown should match the data in the accompanying spreadsheets.
Lobe-Rendering—The lobe-profile image is rendered from the data recorded in the file. Use this image to confirm the general validity of the data set (find missing data points, corrupted data, etc.).
Lobe-Data Destination—The lobe data can be assigned to either an intake or exhaust valve using these "radio buttons."
Lobe Centerline—Set the Lobe Centerline. This indicates the rotational index, in crank degrees, from the center of the lobe-profile data (point of maximum lift) to the Top-Dead-Center piston position. The Lobe Centerlines can be changed at anytime after the lobes have been imported into the simulated engine.

Availability: See Order Form, for pricing, upgrade discounts and more.
Note: The COMP Cams Lobe-Profile Library is supplied with Dynomation-6 or DynoSim6 for FREE!
What You Can Do With Lobe-Profile Libraries:
Easily Import Lobe Data Into Dynomation-6 Using A Versatile Lobe-Profile Import Dialog


Apply Any Lobe To Either Intake Or Exhaust Valve, And If You Are Modeling Variable-Valve-Timing (VVT), You Can Import Any Lobe To Either The Low Or High Speed Cam


Change the Intake or Exhaust Centerlines Before And After Importing The Lobe Profile


Change the Valve Lash and Rocker Ratio Anytime After Importing The Lobe—A New, Effective Duration Will Be Calculated.


Each Lobe Profile File Maintains The Highest Modeling Accuracy


Transform Lobe-Profile Data Into 10-Point Data At Any Time. This Allows Changing Any Valve-Event Timing Points (download the QuickStart Guide for more information on using 10-point timing).


Dynomation-6 Will Instantly Calculate The Effects Of Lash And Rocker-Ratio Changes.


Test Production And Experimental Lobes; Optimize Engine Performance, Map Sensitivity To Timing Changes, Much More!


Find The "Sweet Spot" For Any Engine Application
This Lobe-Profile Library is provided FREE With
The Purchase Of
Dynomation-6 or DynoSim6

This 7000+ Lobe Profile is available on CD or as a Download package. Click here to purchase:


Library Is Fully
Compatible with Windows
Vista, Win7, 8, and 10, (32- & 64-bit).

We Guarantee Your Satisfaction Or Your Money Back!
---
FREE—Download
Lobe-Profile Library
QuickStart Guide
(2Mb, Right click, select
Save Target As...)
---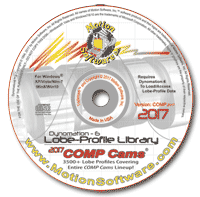 Lobe Library Overview:
Load and Test Entire COMP Cams profile lineup!




Data was obtained directly from cam-manufacturing data.




Easily

load any lobe into Dynomation-6 with enhanced Lobe-Import dialog.




Includes Spreadsheet of Lobe-Profile applications, specifications, and recommended usage.




Installs in minutes. Expands your testing library to nearly 4000 lobe profile files!




Profile data allows precise valve-motion modeling and highest simulation accuracy.




Includes catalog cams and cam-designer's "experimental" lobes!.




Saves time and money—no hand measuring needed
System Requirements: