Using Old Simulation Technology Is Never An Issue With Dynomation-5!
We realize that you need the highest-quality tools to stay ahead of your competition. To give you an edge, Motion Software includes a powerful feature in Dynomation-5 that automatically makes sure you are using the latest features and advances in simulation technology.
Dynomation-5 includes Motion's Automatic Software Update tool. No big deal; that's nothing new, you say! Well, you're right: The technology to deliver updates over the Internet is not new, but Motion Software has taken this technology to a whole new level!
Motion "updates" for Dynomation-5 go way beyond simple fixes! When Dynomaiton-5 automatically checks for updates (you can initiate a update check at any time), it not only receives the usual bug fixes and minor enhancements, but it is often enhanced by entirely new features and modeling capabilities. In fact, Motion Software, Inc., has already rolled out more than 100 software enhancements (check out the "short list," below). Many of these new features have been requested by our users (yes, we really do listen to our customers!).
If you use Dynomation-5 and you have an idea for a new feature or modeling enhancement, let us know. You'll probably see your requested feature "appear" in Dynomation-5 after the next update is download to your computer!
"Short List" Of Automatic Updates Distributed FREE To Dynomation-5 Users (including the most recent version 5.16 update released 3/1/2015):
NEW!

Added Kenne-Bell & Whipple Screw
superchargers.
IMPROVED

! Supercharging accuracy

NEW!

E85 Fuel Modeling.

NEW!

Garrett GTX Turbo Maps.

NEW! All

Graphs Show program Units.

NEW!

Part-Throttle Modeling.

NEW!

WA Overlap-Flow modeling; helpful at high engine speeds with large duration cams. Improves WA simulation response to modifications in exhaust centerline (changed independently of intake centerline).

NEW!

Superchargers added to Forced-Induction menu.

NEW!

Shortblocks added (LS2, LS3 and LS7).
NEW! Charge Flow Analysis Data added to tables and graphs.
Including:
* Total Charge Retained In Cylinder
* Charge Lost From Cylinder Before IVC
* Charge Lost To Reversion
* Charge Lost To Exhaust Flow
* Exhaust Spoilage Flow Into Cylinder
* BSFC (Brake Specific Fuel Consumption)
* Fuel Flow Into Engine (Lb/Hr)
* Fuel Conversion Efficiency

NEW! More accurate frictional models for Wave-Action Simulation.

NEW! Improved simulation stability at high engine speeds.
NEW! Added ability to read COMP Lobe-Profile Library files.
NEW! Redesigned Lobe-Profile Import dialog for ease of use.
NEW! Added Lobe-Profile filename to the Camshaft Category.
NEW! Imported Lobe-Profile filename saved in .DYM file.
NEW! ProIterator™ Includes "Simple" Induction Models
NEW!

Cam-Profile Import Dialog With Enhanced Graphs And Data Displays

NEW

! Export RPM-Based Data To Text File

NEW! Move Graph Reticule Lines With Cursor Keys

NEW! Improved Error Trapping On Cam-Profile Import


NEW! Pro and Quick Iterator Functionality Improved

NEW! Faster "Build-From-Scratch" engine data entry

.
Average values displayed in tables now reflect RPM range selectd in Sim Category for WA and FE simulations.
Updates and Enhancements to Charge-Flow Table.
Improved exhaust modeling in FE with forced-induction.
Improved forced-induction modeling for FE and WA.
Improved turbo backpressure modeling in FE and WA.
Improved multiple-turbo modeling in FE and WA simulations.
Improved US/Metric units switching.
Improved FE sim power modeling with cam centerlines greater than 115-deg.
Improved Hybrid Sim display of Ignition Timing on graphs/tables.

Improved Forced Induction modeling in Wave-Action Simulation.

Improved Manifold Modeling in Filling-And-Emptying Simulation.

Enhancements to MEPs and other data displayed in data tables.

Recalibration of Simulations to Dyno-Test "baseline" data.

Added Enhancements To Lobe-Import Dialog for Lobe-Profile Libraries.

Added RR, Lash, Gross Lift, and Lobe-Profile names to ProPrint.

Fixed issue with minimum number of data points in airflow dialog.

Increase valve event value ranges.

Zeroed non-valid .050 valve timing in spawned engines after Iteration.

2- and 3-Valve-Per-Port Improved Accuracy

2-Valve Coefficient-Of-Discharge Improvement

Exhaust Modeling For High-Speed Engines More Accurate & Stable

Build And Test More Exhaust Header

Combinations

Improved Overall Simulation Stability, Particularly For Unique And High-Speed Engines

Expanded Ranges For Bore And Stroke Permit Modeling Larger Engines (Tractor and Industrial)

I.R. Runner Flow Models Improved

Overall Simulation Speed Enhancements

Rocker-Ratio Extended
Added Garrett GT Series Turbos
Increased Cam Ramp-Rate Modeling
Extended Precision In Crank-Angle Data Export

Overall Simulation Speed Enhancements

Valve-Size vs. Flow-bench Test Valve Size Relationship

Accuracy Improvement

Improved Accuracy With 10-Point Cam Files—Get Much Higher Modeling Accuracy With BOTH Profile And 10-Point Cam Files

Updated User Manual
Improved Air-Fuel Ratio Modeling
Improved Pro-Printing™ Reports
Improve Metric Units Accuracy
Improved CamManager™ Functionality
Improved Combustion-Model Functionality

If you would like to purchase Dynomation-5 and obtain these amazing FREE program updates , Dynomation-5 is now available at special discount pricing. After you install Dynomation-5 on your system, it will automatically update with all the latest features. Every 30 days, Dynomation-5 will check our servers to make sure your software stays up to date (you also can check for new versions any time you wish).
Over 100 program enhancements have already been distributed to Dynomation-5 users for FREE!
---
Dynomation-5 keeps you up to date with the latest technology and program features, automatically!
Update your software automatically by simply selecting Check For New Version in the HELP menu. If you forget, Dynomation-5 will remind you once a month to get the latest updates. And it's all FREE; part of the benefits of joining the Dynomation-5 Team.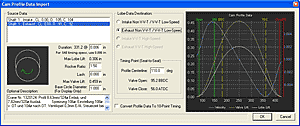 New Cam Profile Import Dialog in version 5.08, including a graph that shows all lobes in the file, their specifications, acceleration curves (helps pick out bogus data) and more. Imports a variety of Cam Profile formats!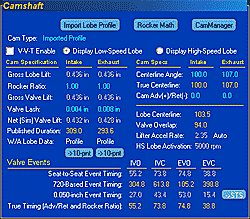 The Camshaft Component category receives a major facelift in version 5.07. Now you'll never "accidentally" switch from profile to 10-point timing. Despite the many new Profile File modeling enhancements, you can still simulate an engine with as little as 0.050 event timing if that's all the data you have. And using the CamMath calculator, you can even get by with just duration, centerline, and lift values! The new layout puts Power where you need it and removes the confusion.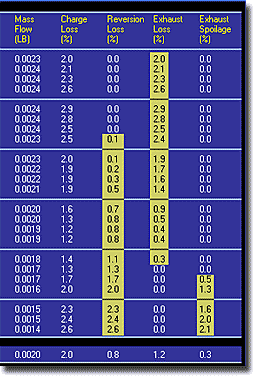 Dynomation-5.09 and later versions display charge- and fuel-flow data in tables, graphs, and ProPrint reports. A quick glance at the Charge-Loss Percentage values gives you an instant view of where in the rpm range these otherwise-mysterious flows take place. By adjusting valve opening and closing points, performance and efficiency can be markedly improved. For more information, see our Feature Focus: Update Charge-Flow Analysis.