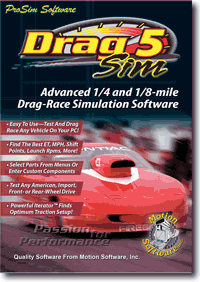 Test Real Or Simulated Engines In
Various Vehicles On The DragStrip Optimize Shift Points, Gear Ratios!
DragSim5™ with ProTools™ is an amazingly accurate 1/4- and 1/8-mile vehicle-dynamics simulation for Windows Vista, 7, 8, and 10 (32- and 64-bit) from the experts at Motion Software, Inc. The simulation lets you to design and build any car, motorcycle or dragster and accurately evaluate its performance at simulated dragstrip! Enter any engine power curve, or test engines you've designed in DynoSim or Dynomation (you can even test a variety of jet and rocket power plants!). Test any manual or automatic transmissions, any gear ratios, any vehicle weight, wheelbase, driving style, weather and traction conditions and more! Change components with just a mouse click—drag-race times are instantly updated. A PopUp TimeSlip™ provides an easy-to-read visual summary of overall vehicle performance. Even test and compare multiple vehicles at once!
Includes powerful Iterative Testing™ that runs multiple tests and finds the best gear ratios, shift point, and more for any

performance or racing application, automatically! DragSim5 is the most powerful and easy-to-use straight-line vehicle-dynamics simulation available! And it's fun to use, too!
Software Overview: DragSim5 simulates virtually any Automobile, Dragster, or Motorcycle using front- or rear-wheel drive! The simulation performs a comprehensive analysis of the physics that act on the vehicle as it accelerates from a standing start to terminal velocity over the 1/8- or 1/4-mile. This iterative (repeating, step-by-step) analysis determines vehicle performance for each fraction of an inch throughout the entire race. The results display looks similar to a professional data-acquisition system! You'll clearly see exact elapsed times, speeds, rpms, beginning at rollout to 60 feet, 330 feet, 660 feet (1/8-mile), 1000 feet, and 1320 feet (1/4-mile). ETs and speeds can be compared with up to four other vehicles to help locate the best component combinations.
User Interface And Features: DragSim5 has a completely unique user interface built from the ground-up to be clear and easy use. You'll find vehicle component parts and specifications on the left side of the screen, and simulation results on the right! Eye-popping graphics are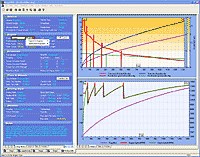 enhanced with QuickAccess™ buttons and DirectClick™ menus that let you change parts simply by clicking on any component. Analyze engine RPM, Clutch RPM, Torque Converter Stall Speed, Acceleration, Tire Slip, Distance, ET, Aero Drag, and much more (detailed below). All data and graphs can be printed (and previewed) in color.
Even though this program is sophisticated, DragSim5 was carefully designed to be easy to use. For example, a Pop-Up TimeSlip™ provides an instant summary of the performance potential of any vehicle. A quick glance will help you make judgments about gear ratios, shift points, vehicle weight, and it can even help you evaluate traction and wheelspin!. Similar to the paper time slip delivered to racers at the end of a run, the DragSim5 Pop-Up TimeSlip™ is a helpful, at-a-glance analysis of track results.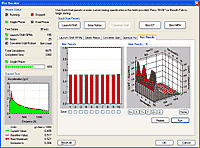 DragSim5 also incorporates (Motion-exclusive) technology that helps you find optimum combinations for any vehicle. To start off, the simulation includes a Traction Calculator™ that optimizes tire/track modeling and improves accuracy. A simple button click begins a comprehensive series of hundreds of thousands of calculations to determine the tire/track adhesion model that best simulates read-world conditions. You'll also be amazed by Iterator™ testing built into DragSim5 that lets you "home in" on the best parts combinations, automatically! Click one button and DragSim will perform hundreds, or thousands of drag tests! The Iterator™ keeps track of all the results, and displays the best gear ratios and other parts combinations for you to review. You'll locate the setup that delivers the quickest ET or the fastest MPH for any street or racing application!
ProTools™: Professionals need all the modeling power they can get. The ProTools™ included in DragSim5 extend the functionality of many program features. For example, the ProIterator™ lets you perform fully custom testing, DataZones™ give you the most graphing and data analysis power possible, ProData™ includes a new table of extended vehicle performance data, and ProPrinting™ prints out a comprehensive test report that can include your name, address, custom logo, glossaries, and all ProData™ values. If you're serious about drag racing, the DynoSim5 with ProTools™ was made for you!
Technical (under the hood): DragSim5 simulates the complex physics involved in 1/8- and 1/4-mile drag racing, including the incredible range of forces that act on automobiles, dragsters, or motorcycles at the starting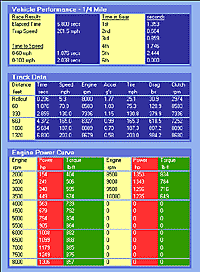 line. But you can leave your physics books on the shelf, because the DragSim5 makes complex vehicle analysis as easy as 1, 2, 3. Pop-up menus allow you to enter any engine power curve (also import DynoSim6 and Dynomation6 and other engine files). You can even test jet or rocket power plants! Then choose vehicle components from simple drop-down menus or enter custom specs for automatic or manual transmissions, torque converter stall-speed, launch rpm, shift rpms, up to six transmission gears with virtually any gear ratios, rear-axle ratios, vehicle weight, wheelbase, front- or rear-wheel drive, frontal area, aero drag, tire width, rollout distance, ambient temperature, humidity, wind speed, and more! Internal "watchdogs" eliminate conflicting choices (like an rpm redline rpm set lower than a shift rpm, etc.), ensuring accurate performance predictions.
Users Manual: The DragSim5 is supplied with a full-color on-disk Users Manual (directly accessible from within the program) that details the features of this comprehensive simulation. If you wish, you can download a copy of this manual to preview the capabilities of this software before you buy (link provided at top of this page).
Requirements: DragSim5 runs on any Windows Vista or Win7, 8 or 10 equipped PC. A video display of 1024 x 768 resolution or greater is recommended. A Windows-compatible printer is required for test reports.
Availability: The DragSim5 is available NOW!. See our Order Form for purchase information and Web Discount pricing.
What You Can Do With The DragSim:
Design, Build, And Test Any Drag Vehicle In Seconds

Simulates Automobiles, Dragsters, and Motorcycles

Model Front- Or Rear-Wheel Drive Vehicles

Models 1/8- Or 1/4-Mile Drag Races

QuickIterator Testing™ Adds Incredible Power

ProIterator Testing™ Let's You Pick Custom Testing Criterion

Instantly See The Potential Of Any Component

Pop-Up TimeSlip™ Provides Performance Overview

Back-To-Back Tests/Compare Up To Four Vehicles

Test Driveline, Gear Ratios, Tires, Wheels, And More!

Easy-To-Use, Error-Checking Interface

Built-In Traction Calculator™ Improves Accuracy

Included ProTools™ Features Extend Program Power

All Future Updates Included (available over the Web)!
Tune These Key Vehicle Components:
Enter Any Engine Power Curve In Detailed HP-Entry Dialog

Imports DynoSim, Dynomation, and other Motion Engine Files

1- to 6-Speed Transmissions, Any Shift Times

Clutch Or Torque Converter (Any Stall Speed)

Any Trans Or Rear-Axle Ratios

Any Motorcycle Primary Ratio

Vehicle Weight, % On Driving Wheels, Wheelbase

Frontal Area, Aero Drag, Driving Tire Widths

Static And Tire-Growth Diameters

Traction, Launch, Shift, Tire Slip, and Redline Rpms

Rollout Staging Distance

Temperature, Humidity, Wind, & Elevation

Even Test Jet/Rocket Propulsion

A Fun-To-Use, Powerful Vehicle-Dynamics Simulation!
What The Pros Say About The DragSim:
Distills complex drag racing science down to a simple mouse click. Easy for the beginner, yet sophisticated enough for the pro. John Baechtel, former Editor of Hot Rod and Car Craft Magazines, member of exclusive 200mph Bonneville Club, member SAE, and computer graphics and dynamometer whiz.

Initial tests predicted my ETs exactly. Very helpful in evaluating any racing combination. Pete Briggs, Champion motorcycle engine designer and builder. Pro Stock motorcycle competitor.

Program computes in seconds what my years of experience and sixth sense predicted. Extremely easy to use. Louie Hammel, Edelbrock R&D technician/dyno operator, Nitrous Oxide Systems director of R&D, and developer of Speed Block Holley replacement metering system.

DragSim5 Is Fully compatible with
Windows Vista, 7, 8, and Windows10
(32- and 64-bit).

We Guarantee Your Satisfaction
Or Your Money Back!
DragSim5
ORDER FORM
Get Your Copy Now!!
---
FREE—Download
DragSim5
Users Manual
(18Mb, Right click, select
Save Target As...)
---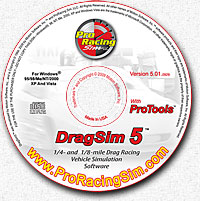 Special Web Pricing
Available Now!
What's New This Version:
Improved Starting-Line Modeling, Greater Accuracy, Improved Data Analysis, New Easy-To-Use

QuickIterator™




Improved Torque Converter Modeling, Bullet-Proof Shifting Algorithms, Improved Traction Analysis And

Traction Calculator™

.

QuickIterator™ Fast One-Button Testing Finds Best Gear Ratios, Shift Points.


ProTools™

Enhanced Features Including

DataZones™

,

ProIterator™

,

ProData™ Display

, Traction QuickCalculator™,

ProPrinting™

.


Traction QuickCalculator™

Makes Traction Analysis A One-Button Task. Improves Prediction Accuracy.


New Colors And Graphics, QuickAccess™ Buttons, More Vehicle Data, Color Users Manual, And More!
Features:
Build, Test, And Drag Race Any Domestic Or Sport Compact Vehicle On Your PC!


Drag Test Cars, Motorcycles, Or Dragsters


Advanced Graphics Displays ET, MPH, Engine & Clutch (trans input shaft) RPM, Acceleration, Aero Drag, Tire Slip, and more!


Evaluate ET, MPH, Or Zoom In And Analyze Starting Line Or Top-End Performance


Advanced Windows Interface With Easy-To-Use, DirectClick™ Menus


Model Front-Or-Rear-Wheel Drive Vehicles


Optimize Any Vehicle BEFORE You Build It; Save Thousands On Parts!


Select Components From Built-In Menus Or Enter Your Own Custom Specs


Use Any Trans, Manual or Auto, 1-to-6 Gears, Any Ratios, Any Shift RPMs


Instantly Load Motion Engine Simulation Data Or Manually Enter Any Power Curve


Model Virtually Any Vehicle, Weight, Frontal Area, Aero Drag, Wheelbase, Tires, Driving Style!


Build Several Vehicles At Once; Side-By-Side Comparisons Of Up To Four Vehicles Possible


Use Pop-Up TimeSlip™ For Fast Overview Of Vehicle Performance


Built-In "Watchdogs" Help Ensure Valid Data Entry


QuickIterator™ Finds The Best Shift Points And Gear Ratios, Automatically!


Accurate, Easy-To-Use, State-Of-The-Art, And Fun!. The DragSim5 Is The Best Drag-Racing Vehicle Dynamics Simulation You Can Buy!
Requirements: