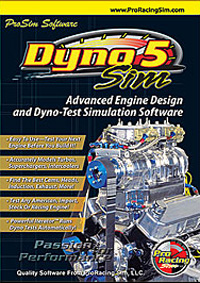 DynoSim5™ is a full-featured engine simulation for Windows7, 8, 10 and 11. Designed for you, the performance engine enthusiast, DynoSim5 provides unmatched power to find the best component combinations for any engine project. Build domestic or sport compact, street or racing engines with an easy-to-use Direct-Click™ Windows interface. Select from a wide range of components, including fuels, forced induction, ignition, exhaust, induction, cylinder-head airflow, valve sizes, combustion chamber shapes and much more! Super-fast simulation routines combined with a breakthrough Iterative Testing™, makes DynoSim5 the most powerful and
fun-to-use engine dyno simulation on the market!
Software Overview: DynoSim5 incorporates new QuickIterator™ and ProIterator™ technologies that helps you find optimum component combinations for any engine application faster and easier than ever before. The QuickIterator™, will "home in" on the best parts combination for you with a single mouse click! Run hundreds, thousands, or even millions of tests, automatically! The QuickIterator™ performs all the testing, keeps track of all the results, and displays the best combinations for you to review. The advanced ProIterator™ takes automated testing even further, allowing full flexibility in selecting testing ranges and search criterion. Either way, DynoSim5 with Iterative testing is light-years ahead of the competition!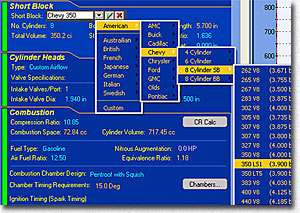 DynoSim5 also incorporates new simulation models that allow you build an even wider range of engines for street or racing applications (see bullet list, below). Analyze turbochargers, centrifugal blowers, and roots superchargers even modify environmental conditions. You'll find more intake and exhaust manifolds, camshafts, cylinderheads, rocker-ratio and lash modeling, extended bore and stroke ranges, hundreds of new domestic, import and sport-compact shortblocks, and much more!
In addition to several alternate fuels, Nitrous-Oxide Injection can be used with gasoline or methanol to add horsepower boosts from 0 to 400+hp. The DynoSim5 can be used to evaluate the safe levels of Nitrous flow vs. power by displaying cylinder pressures (Bmep) throughout the rpm range. Use this information to determine how a nitrous system should work before you hit the button!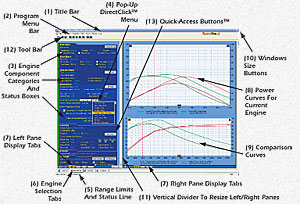 User Interface And Features: DynoSim5 has a completely new, custom-built user interface. Eye-popping graphics are enhanced with QuickAccess™ buttons and DirectClick™ menus that let you change parts simply by clicking on any engine component. Nothing could be easier! Analyze engine performance using a wide range of full-color graphs. All data and graphs can be printed (and previewed) in color on any Windows printer. You can even model several engines at once; just click on an Engine Selection Tab to further analyze any engine design.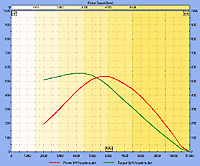 DynoSim5 provides several ways to view and study Power, Torque, Manifold Pressure, Cylinder Pressures, and more. Auto-scaling graphs and numeric listings of vital statistics are just a mouse click away. The DynoSim also includes enhanced versions of four powerful, built-in calculators: The Cam Math QuickCalculator, The Compression-Ratio Calculator, Rocker-Ratio Math, and The Air Flow Calculator. Each of these easy-to-use dialogs allows you to easily convert and manipulate cam specs, cylinderhead flow-bench data, and even determine the effects of changes to combustion-chamber volume, dome heights, gasket thicknesses, and more. Never before has so much calculation power been available for such a reasonable price.
10-Point CamManager™: A powerful new feature in the DynoSim, the 10-Point CamManager™ lets you see a cam timing dynamically change as you alter cam specs. Modify every cam timing variable independently, and test the results instantly. Use the search capabilities of the CamManger™ to find CamFiles that match your designs, Search through 800, 10-Point CamFiles in less than a minute (on most systems)! Expand this capability to over 6000 camfiles with CamDisk8™. Find any timing value, recommendation specification, manufacturer, engine family, and more. The CamManager™ is a fun-to-use tool that adds tremendous testing capability to the DynoSim5.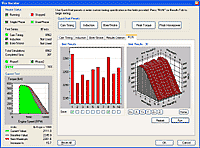 DynoSim5 Includes ProTools™: While the lower priced DeskTop version of our engine simulation (DeskTop Dyno5) includes all essential features, professional engine builders and serious enthusiasts need all the modeling power they can get. The ProTools™ included with DynoSim5 extends the functionality of many program features. The tool kit includes the ProIterator™ for fully customizable testing, DataZones™ to give you the most graphing and data analysis power possible, ProData™ that includes a new table of extended engine data, and ProPrinting™ that prints out a comprehensive dyno test report that can include your name, address, company logo, glossaries, and all ProData™ values. ProTools also include Chamber and Ignition modeling. If you're serious about engine analysis, DynoSim5 includes the advanced tools and modeling you need to find hidden horsepower in your next engine project!
Technical Overview: Here's how the DynoSim5 works: The simulation calculates the gas dynamic, thermodynamic, and frictional physics of virtually any 4-cycle internal-combustion engine. Horsepower is determined from an analysis and integration of cylinder pressures from 1000 to 14,500rpm. All basic engine components and specifications are accurately modeled, including bore, stroke, 1-to-12 cylinders, a wide range of cylinderheads and port configurations, valve sizes, compression ratios, naturally-aspirated and forced-induction systems, airflow, fuel types and air/fuel ratios, combustion chamber design, ignition timing, exhaust systems, and virtually any camshaft timing and valve lift, including rocker ratios and valve lash. American and Metric units are supported, and conversion between unit systems is instantaneous. ProTools™ allows viewing, graphing, and printing "technical" engine data, including engine pressures (imep, bmep, fmep, pmep), power loss from friction, volumetric efficiency, and manifold vacuum at each power point within the dyno test. Use this data to gain deeper insight into engine operation and efficiency.
Users Manual: The DynoSim5 is supplied with a 160+ page, full-color, on-disk Users Manual (directly accessible from within the program) that details the features of this comprehensive engine simulation. If you wish, you can download a copy of this manual to review the capabilities of this software before you buy! Jump to our Support Page to download the manual (and, if necessary, Adobe Reader).
Availability: The DynoSim5 is available NOW!. See our Purchase Page, for purchase information and Discount Web pricing.
What The DynoSim5 Can Do:
Build And Test Virtually Any 4-Cycle Engine!

Instantly Switch Between US & Metric Units

Find The Best Parts For Street Or Racing Applications

Easy Component Selections, Just Point And Click

CamManager™ Shows Cam Lobe Acceleration

Iterator Testing™ Adds Incredible Power

Test Alternate Fuels And Nitrous-Oxide Injection

Test Air/Fuel Ratios, Combustion-Chamber Shapes

Auto-Scaling Power, Torque, Pressure Curves

Display And Print Components And Color Graphs

Test Carburetors/Injection, Stock & Racing Manifolds

View And Print Engine Pressures, Efficiencies

Model And Compare Multiple Engines

Built-In Calculators (Cam, Rocker, Compression, Induction Flow, AirFlow Conversion)

ProTools™ Add Even More Professional Features

Automatic Updates Over The Web!
Tune These Key Engine Components:
Bores (2- to 7-inches) Strokes (1.5- to 7-inches)

Number Of Cylinders (1 to 12)

1000 Built-In Shortblocks! (or enter your own specs)

Models Environmental Conditions During Dyno Run

Intake And Exhaust Valve Sizes

1, 2, Or 3 Valves Per Port

Modify Valve Event Timing, Valve Lift

Rocker Math Analyzes Lash Changes

Lobe Acceleration Analysis And Modeling

Change Lobe Centerlines And Durations

Search 6000+ CamFiles In Seconds!

Intake/Exhaust Port Design And Modifications

Wedge, Canted, Hemi, And 4-Valve Heads

Combustion-Chamber Design

Ignition Timing Modeling

Improved Flow-Bench Data Modeling

Enter Flow Data To Model Any Cylinderhead

Up To 7000cfm Peak Induction Flow

Any Carburetor (multiple or single) or Fuel Injection

Amazingly Accurate Turbo/Supercharger Modeling

Set Intercooler Efficiency With Any Forced Ind.

Intake Manifold And Exhaust System Modeling

Compression Ratio From 6:1 to18:1

Various Fuels, Including Gasoline, Methanol, More

Model Air/Fuel Ratios For Max Power or Max Mileage

Nitrous-Oxide With Gasoline And Methanol

And More! Our Most Powerful Simulation!
What The Pros Say About The DynoSim5 Technology:
Finding the right combination is the most difficult task in engine building. Here's a quick way to the right combination! Gale Banks, Engine designer and builder, turbocharging expert par excellence, member SAE, holder of numerous Bonneville and other racing records, and owner of Gale Banks Engineering, known worldwide for auto and marine turbocharged engines and accessories.

The best of its kind on the market! Easy to use and it produces accurate results. David Vizard, professional race car driver and engine builder, member of SAE, author of countless magazine articles and almost 100 books on automotive performance. David is the most published author of automotive performance literature in the world.

Remarkably accurate and fun to use. John Baechtel, former Editor of Hot Rod and Car Craft Magazines, member of exclusive 200mph Bonneville Club, member SAE, computer graphics whiz, and current owner of Westech Performance dyno testing facility.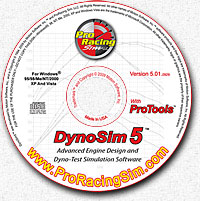 Special Web Pricing And Discount Bundles
Available Now!
What's New In DynoSim5:
Shorter Bores & Strokes (As Small As 2.5-Inch Bore, 2-Inch Stroke; 1.5-Inch Stroke And 2-Inch Bore with optional

ProTools™ Kit

).



Improved Induction Models, More Intake Manifolds, Supplied With 100+ Cylinder Head Flow Files.

Improved Cylinderhead Flow Modeling, Supports 1, 2, or 3 Valves Per Port.


QuickIterator™ Fast One-Button Testing And Powerful, New

ProIterator™

Included In

ProTools™ Kit (optional).


New

CamManager™

Visually Displays Cam Timing, Models Lobe Acceleration, Improves Accuracy. The Ultimate Cam Selection Tool!


DynoSim Supplied With Over 800 CamFiles. And Add 3500 More With The CamDisk8 Library Supplied With The Simulation. All CamFiles Load Automatically In

CamManager™

!


New Screen Colors And Graphics, QuickAccess™ Buttons, More Engine Data, 300-Page Color Users Manual On Disk, And More!
Program Features:
System Requirements: