Complete DeskTop Dyno5 Simulation
Series Bundle!!
Our Lowest Price Domestic and Sport-Compact Engine/Vehicle Simulation Bundle!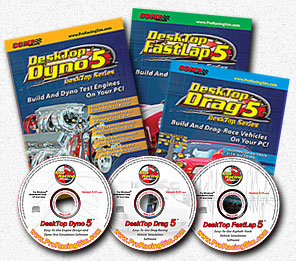 Includes
DeskTop Dyno5 Engine simulation, DeskTop Drag5 DragStrip vehicle simulation, and DeskTop FastLap5, a powerful Road-Course simulation, plus a Free USPS Shipping (free shipping for US orders only)!

Complete
DeskTop Dyno5--Series Simulation Bundle

AVAILABLE ON CDs
OR DIRECT DOWNLOAD
Free Program Updates!
Full Packages With
Single-User Licenses
(Retail $299.85)
Now Only $89.95
No Shipping Charge For Downloads