Our Lowest Cost Multi-Sim Bundle!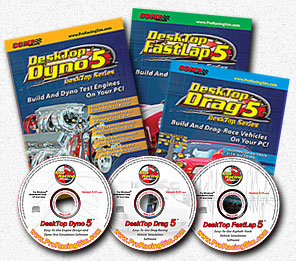 Includes The Latest Versions Of Our DeskTop5-Level Simulations: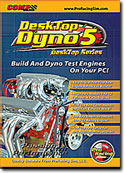 DeskTop Dyno5 Engine Simulation
Tthe DeskTop Dyno5™ is an easy-to-use, engine-dyno simulation that offers amazing predictive accuracy and low cost. You can test camshafts, cylinder heads, compression ratios, valve sizes, intake manifolds, fuels, nitrous oxide, exhaust systems and so much more! In seconds, you can enter your engine specs using our simple Direct-Click™ interface. Then watch the simulation display power and torque curves within a few percentage points of actual dyno data! Get the most simulation power at the lowest cost.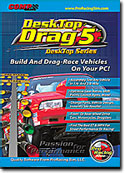 DeskTop Drag5 Drag-Race Simulation
Build and test any car, motorcycle or dragster, and thoroughly evaluate the entire vehicle for 1/8- and 1/4-mile drag racing performance. Powerful, accurate, and easy to use! Now with improved modeling, data analysis, and much more!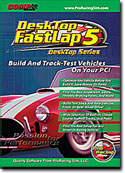 DeskTop FastLap5 Vehicle Simulation
Simulates the complex forces, speeds, and accelerations generated by any vehicle on any closed-course track. Replay vehicle action on straightaways and turns; remains fully synchronized with comprehensive telemetry. Change any component in seconds. Accurate, easy-to-use, state-of-the-art and great fun; DeskTop Fastlap5 will become a valuable addition to your racer's toolbox.

Order This
DeskTop Dyno-5 Series And Save!

System Requirements:
Software Program Features:
• Compare DynoSim6 ProTools™ Features
• Compare DragSim5 ProTools™ Features
• Compare FastLap5 Sim ProTools™ Features